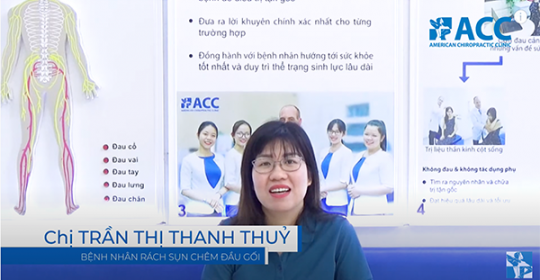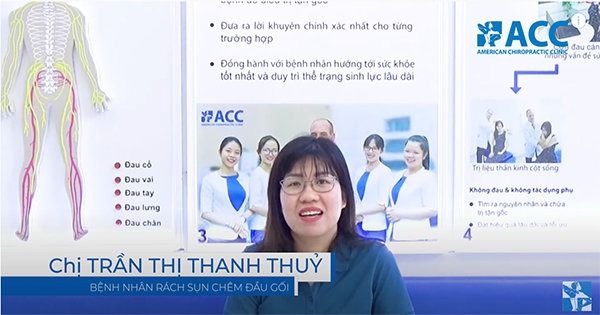 Mrs Thu Thuy is a special patient at American Chiropractic Clinic (ACC). She has taken her child to the clinic for flat feet treatment and when she suffered an unfortunate trauma that caused the tearing of her meniscus; she decided to entrust her recovery with Dr. Aubrey C. Gail at ACC.
A tear in the meniscus could happen with a hard impact to the knee when it is hit, which can cause painful swelling and stiffness in the knee joint. It was often difficult and painful to stretch the knees or walk when the meniscus was torn and it has really affected Ms. Thuy's daily life.
Mrs Thuy was very impressed with the services and the treatments at ACC.  She underwent physical examination and range of knee's motion with the doctor, whereupon the doctor checked her MRI to determine the degree of injury.  A grade II tear at the meniscus and fluid accumulation was detected in the process.
The doctor assigned Physio therapy, DTS and Laser for Mrs Thuy and as a result of all the effective treatments, Ms. Thủy was completely pain free without use of any drug or surgery.  Mrs Thuy shared her experience and advised everyone to seek consultation as well as treatment as soon as possible whenever they have a medical condition in order to have proper recovery and to be able to live a healthy life. ACC records a high success rate in treating many different kinds of knee pain from degenerative arthritis to sporting injuries.
Contact any ACC clinics for more information and check your spine and pain relief at:
HCMC: 99 Nguyen Du str., Ben Thanh Ward, Dist.1, (028) 3939 3930 Hotline +84 946 740 066
HCMC: 133 Nguyen Trai str., Ward 2, Dist.3, (028) 3838 3900 Hotline +84 941 970 909
HANOI: 44 Nguyen Du str., Hai Ba Trung Dist., (024) 3265 6888 Hotline: +84 965 688 828
DA NANG: 112 – 116, 2 tháng 9 street, Hai Chau Dist., (0236) 3878 880 Hotline: +84 911 660 252
Leave a reply →