Nowadays in Vietnam, 80% of chiropractic patients who have back pains or disk problems are suffering from pain and limitations in daily activities. In a bid to find solutions for cases who could not be treated fully by other methods, ACC has implemented Pneumex Pneuback treatment with 7 steps to cure these patients successfully. 
ACC is the first clinic in Vietnam using the new 7-step Pneumex PneuBack treatment method
Through many researches into techniques as well as advance technology to improve the healing rate of patients, Dr Wade Brackenbury – ACC's General Director learned about the Pneumex PneuBack program from a Boeing 747engineer, Dr. Gerry Cook, who has invented the system in the US.
Treatment of this program consists of seven steps that combine the optimal steps of physiological treatment, decompression, vibration frequency, skeletal treatment, and physical therapy.
Dr Wade went to the United States to work with Dr. Gerry Cook in optimizing this approach in order to treat patients in Vietnam.
How to treat the condition, and its effectiveness
Previously DTS was used where the machine uses only one pulling direction, affecting one fourth of the body while the patient lies down. The PneuBack program uses four different decompression machines, one for the patient, one for the patient, one for the walker and one for the patient.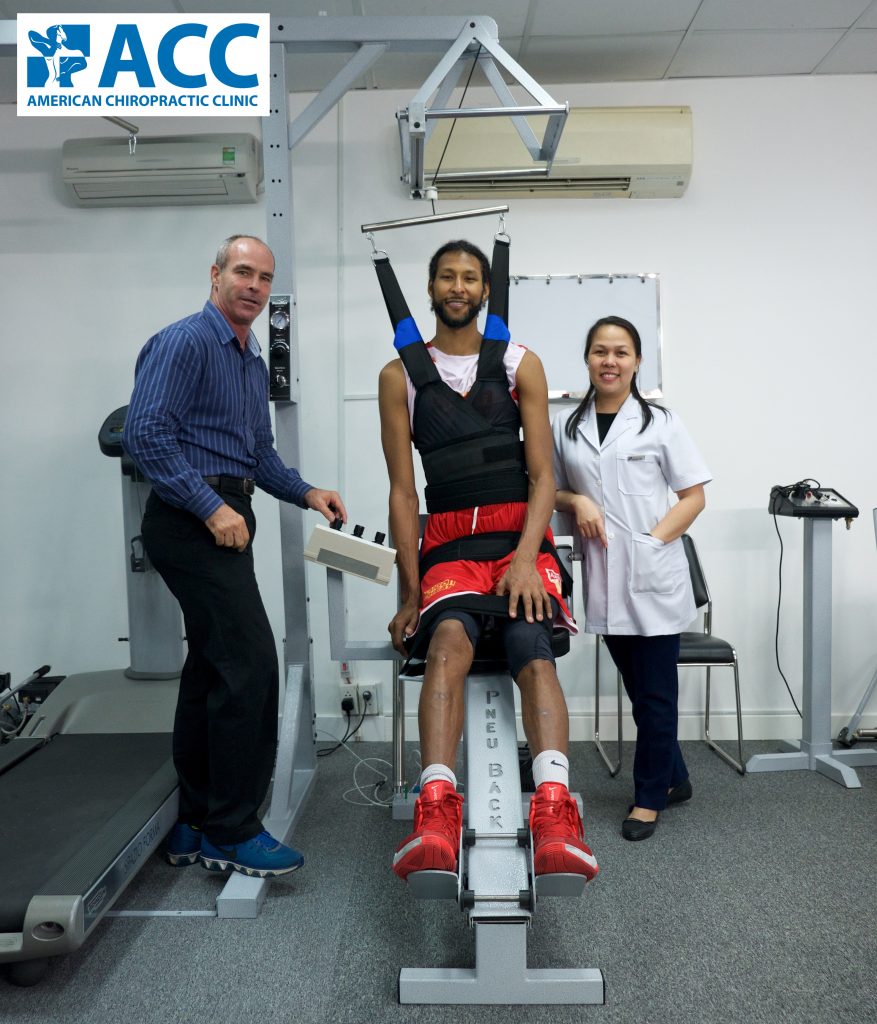 Pneumex PeuBack new technology from US for effective disk treatment
 The system can impact the spine and spinal discs in a variety of directions to completely change the compression of the disc and help it slowly recover to its original position. In addition, the machine has the effect of standard decompression for each patient body. There are vibrations that are programmed to allow the overhanging disk to move back to its proper position. In the process, it significantly increases blood flow to the affected part of the back or neck.
While in the United States, Dr Wade found that many patients came from Europe and the Middle East for Pneumex treatment, and they improve their disc and reduce pain where chiropractic, physiotherapy and medicine cannot help. ACC launched the Pneuback program in Vietnam early Apr 2017, and since then many patients have benefited from the program. The first patient was a 74-year-old woman with three discs protruding and suffering from diabetes. She can not walk, and only moved around by wheelchair. She also could not feel her feet or lower legs. After six sessions with PneuBack, she was able to step up the stairs and much of the feeling came back to her feet and legs. She made a lot of good progress throughout the treatment. As far as we know, these patients have not been able to achieve much results with other types of treatment before. The Pneuback system in Vietnam is the first of its kind in Asia.
How long does this treatment take?
Each treatment takes around 1 hour and 20 minutes, and most patients go through several weeks of care. However, most patients have drastic improvement in the first one or two weeks.
Leave a reply →