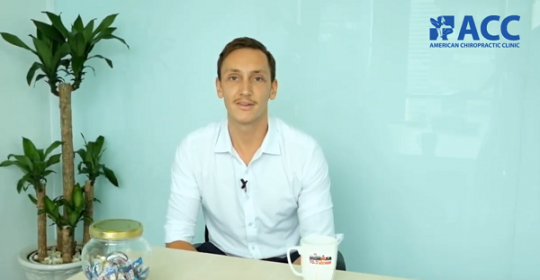 As a sport-holic, Vincent Gothknecht, a 25 year- old young man from Germany, has spent a lot of time for his hobby: jogging, swimming, and cycling. He is also playing for Saigon Raiders; a football club for foreigners located in Ho Chi Minh city and had many chances to play in international and professional tournament.
In the semi-final match with Bangkok club in Singapore, he immediately felt hurt when shooting the ball for penalty. In the examination with doctors later, he was diagnosed to have thigh trauma with partial torn hamstring on his right leg that the result of over stretching or tearing of muscle fibers. Muscle can be tore at any point along the length of the muscle. And he would have not joined the Ironman Da Nang competition in 1.5 month later if his wound to prepare for the next competition, Ironman Da Nang. Therefore, he was motivated to seek for treatment in order to continue the training, and that's when he heard about ACC clinic and Chiropractic care. He went through a consultation with American chiropractic doctor to examine his situation and only after 5-time treatments with Chiropractic adjustment and physiotherapy such as shockwave, Class IV laser within 8 days, he was almost recoved and the pain was wiped away. 10 days absent on the ground would be one of his unforgettable memories and on the day 11th, Vincent was able again to do training and to play sport normally.
His advice to all players having trauma was that if you experience serious pain, continuing activity could worsen your condition and cause a serious injury. Halt activity and seek a medical examination as soon as possible. You should concentrate on a good rest and intensive treatment, no need to rush with all the training and practicing. A good health condition will be a big advantage when they have to face with competitors in game.
Vincent expresesed his thanks to ACC and the doctor and staff helped him get better with a effective no-drug and no-surgical treatments and Chiropractic, an effective treatment in spinal problem.
ACC Vietnam is one of the clinics provide an effective treatment and the highest level of quality and facility, exceeding that of most similar clinics in Vietnam.
Kindly contact ACC for more information and appointments:
HCMC: 99 Nguyen Du str., Ben Thanh Ward, Dist.1, (028) 3939 3930 Hotline +84 946 740 066
HCMC: 133 Nguyen Trai str., Ward 2, Dist.3, (028) 3838 3900 Hotline +84 941 970 909
HANOI: 44 Nguyen Du str., Hai Ba Trung Dist., (024) 3265 6888 Hotline: +84 965 688 828.
Leave a reply →