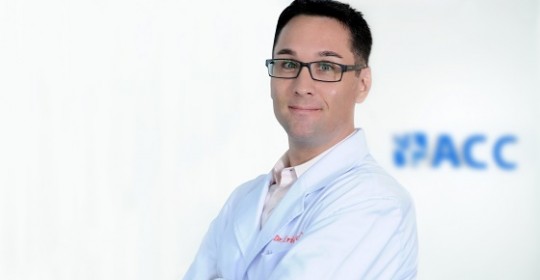 Overview:
Dr. Eric Balderree believes it is very important to take time and explain to patients about their diagnosis in order for them to fully understand what factors lead to their current state of health.  With an individualized treatment plan specific to each patient, he oversees his patients' progress in pain management, as well as preventative care.
Education & Professional Experiences:
In 2010, Dr. Eric Balderree graduated from Life Chiropractic College West with a Doctor of Chiropractic degree. He also held a Bachelor of Science in Kinesiology focusing on Pre-Physical Therapy from San Diego State University.
Prior to coming to Vietnam, Dr. Eric has spent time practicing in the United States, Singapore and Indonesia.
Dr. Eric has more  10 years working experience in Chiropractic treatment.
Prominent successful treatment cases at ACC:
Successful case treatment of lumber spine disc herniation of Mr. Lee Huyn Min
ACC talk show – Disc degeneration: Symptom, Causes and ACC treatment?
Events & Social Activities
Interest & Hobbies:
When not taking care of his patients, Dr. Eric likes to travel, scuba dive, work out, play baseball, and spend time with his family.
Other Information:
Dr. Eric's goal is to help patients live a pain-free life and allow them to function to their fullest potential with optimal health.  His personal mission is to "educate, adjust, and inspire as many families as possible towards optimal health through natural chiropractic care."
Leave a reply →