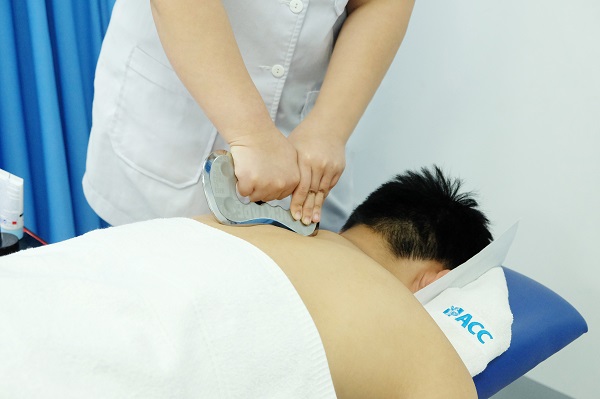 HEALTH BENEFITS OF MANUAL THERAPY
Manual therapy is a method impacting deep tissue with supported tools, which bring a lot of health benefits such as:
Reducing muscle pain
Increasing blood circulation
Increasing immunization
Enhancing body's flexibility
Reducing stress
WHO NEEDS MANUAL THERAPY?
Almost everyone can benefit from treatment, especially:
Office workers who having symptoms such as back pain, neck pain due to sitting for a long time.

New mothers suffering from wrist pain, back pain as a consequence of carrying baby with wrong posture.

Professional athletes with knee pain, leg pain, arm pain.

Heavy labor workers suffering from muscle tightness.
WHY CHOOSE ACC?
Take only 20 minutes of treatment to reduce muscle pain and tightness. Our experience specialist will built the optimal program for each cases.

Combined with supporting therapy tools in order to enhance the effectiveness and speed of recovery.

Modern facilities with professional customer service.

This is a tip-free service.
This service is available for ACC HCMC at:
1. ACC Nguyen DU – 99 Nguyen Du, Ben Thanh Ward, District 1, HCMC
2. ACC Nguyen Trai – 133 Nguyen Trai, Ward 2, District 5, HCMC.