What Is Acupuncture?
Acupuncture is one of the therapies included in Traditional Chinese Medicine. It is used extensively by one quarter of the world's population residing in Asia and it has been used for over 3000 years. Its popularity is now growing rapidly in the Western world. This ancient art of healing involves the insertion of very fine needles into specific points of the body. Acupuncture, along with herbal treatments, nutrition, and exercise, works with the natural vital energies of the body to promote its ability to heal itself.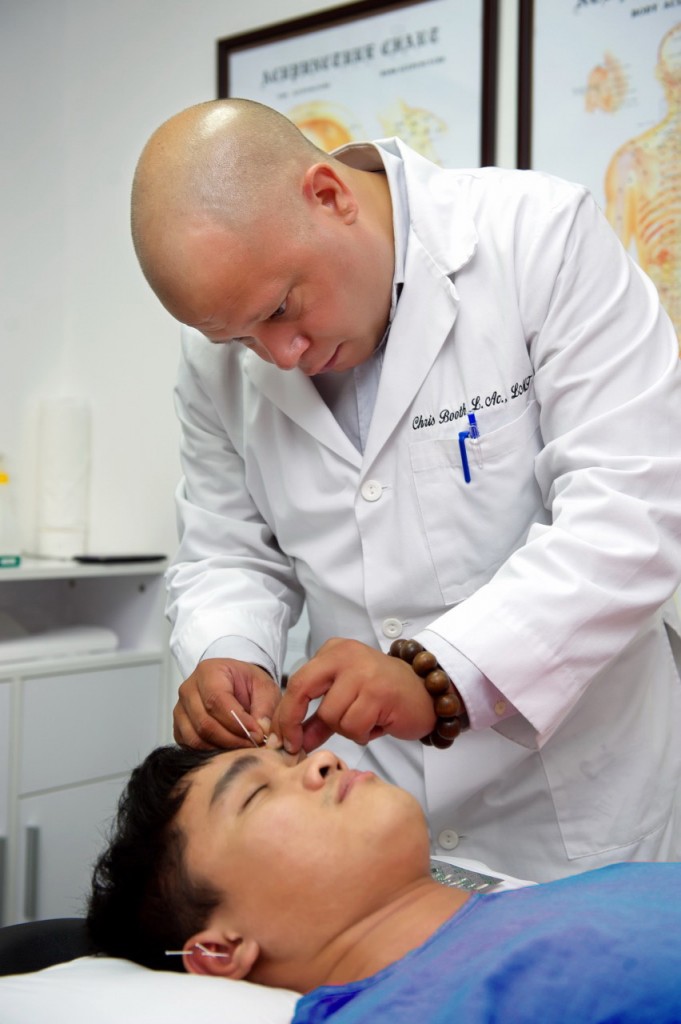 Acupuncture Dr. Chris
What does Acupuncture treat?
Acupuncture, has been proven to be an effective treatment for a very wide number of disorders and problems. It is often more effective for treating many organic illnesses, such as depression, hormone imbalances, and other organ illness than modern western medicine. Many kinds of Chronic and acute pain respond very well to acupuncture.  Acupuncture is recognized by the World Health Organization, can treat nearly four dozen ailments.
Problems most commonly treated by acupuncture at ACC include:
Back, knee, and neck pain
Allergies
Arthritis
Chronic Fatigue syndrome
Circulatory problems
Fertility problems
Gynecological problems
Depression
Digestive issues
Skin problems
Stress and Anxiety issues
Is Acupuncture Safe?
At ACC, our Doctors of Acupuncture are fully trained and license. The needles used are very fine, sterile, disposable.  Acupuncture when correctly administered, is one of the safest and effective treatments in modern health care.
How Does Acupuncture Work?
Traditional Chinese Medicine is based on an energetic model rather than the biochemical model of Western medicine. Over thousands of years of practice, Chinese physicians have discovered a system of cyclic energy flowing in the human body called, "Qi" along specific pathways called meridians. Each meridian is associated with a particular physiological system and internal organ. When the Qi in the pathways becomes obstructed, deficient, excessive, or imbalanced, disease occurs.  The trained Acupuncturist will then determine the diagnoses from the Chinese Medical perspective and treat the patient to help re-balance the flow of energy throughout the blocked meridians and help to eliminate disease.